Almost 40 years ago Ian Bradley, the first producer and co-writer of Prisoner, helped to create an enduring legend that is still enjoyed by millions of people the world over. Now retired from the industry, he has turned his undeniable talent to the business of writing novels. His latest novel, The Parthian Shot, has just been released as an e-book and deals with themes he explored so successfully on the small screen several decades earlier. In his own words, Ian summarises the premise of his new novel:
Bridge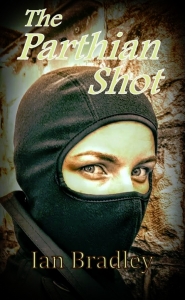 water Women's Prison gives a whole new meaning to the term 'Open Prison'.
Privately operated with an emphasis on cutting costs, it is understaffed, corrupt and leaks like a sieve. Drugs are habitually thrown in over the Perimeter Fence. Women on day release work at the local brothel. An inmate dies of a drug overdose and the Prison's reaction is to simply cover it up.
Few women benefit from a stretch in Bridgewater, but Natalie Palmer, a heavily pregnant, young Identity Thief is determined to be the exception. With an expert knowledge of I.T. she can circumvent the prison's antiquated security system and virtually has the run of the prison after lockdown at night; especially when the only two prison officers on duty are carrying on an illicit love affair in the Prison Sickbay.
Natalie can get anything in or out of the prison and has become Bridgewater's main supplier. The problem is the women aren't rich; the rewards are small. What Natalie needs is a rich women to be sent to Bridgewater; one who, in turn, will make Natalie rich. But she knows it is only a dream; rich people don't go to prison.
Liz Wright isn't rich, but her husband is. He's a successful businessman who got rich by using women to unknowingly bring drugs into the country for him. When Liz is caught at Sydney Airport with two kilos of heroin in her suitcase, her husband deserts her and she ends up in Bridgewater.
Natalie tries to persuade her to disclose her husband's bank details so she can clean him out but Liz has a better idea. She wants Natalie to get her out of the prison at night so she can rob her husband then get her back into prison before anybody realizes she has gone, thus giving herself the perfect alibi.
The women meticulously plan the robbery but they are surrounded by danger on all sides. A husband capable of murder, a corrupt prison officer, an inmate prepared to betray Liz to get her revenge, an agoraphobic prisoner afraid to go outside, let alone over the fence, and a policeman with a very personal reason to hate both Liz and her husband.
And if Natalie's baby decides to arrive while the women are out over the fence, there is no way they can call for help.
Inspired by an Inquiry into a Death in Custody at a Privately Run Women's Prison in Australia, "The Parthian Shot" is a new novel by the original producer and co-writer of Prisoner Cellblock H, Ian Bradley
The book can be purchased here.